20 things I love about. . . is a series where I talk about a big film or TV love of mine. This is a place void of criticism. A space to share my unabashed love for something wonderful. Let's get on with the one, the only, Brooklyn Nine-Nine!!
1. Rewatchability
This is an important one for my ilk. The kind of people who literally watch each episode tens of times. Nine-Nine isn't my first rodeo; before, there were Two and a Half Men, How I Met Your Mother, Modern Family and Parks and Recreation. It's like comfort food. I've seen it enough to memorise most episodes, which means I can put an episode on and fall asleep to the comforting sounds of good comedy.
2. Doug Judy
Oh my god. Hands-down, the funniest character on any show. From flirting with Rosa to 'this is what happens WHEN YOU'RE NAUGHTY!!!" to eating lobster thermidor with a side of thermidor, The Pontiac Bandit's visit to Brooklyn is always a good thing.
3. A diverse cast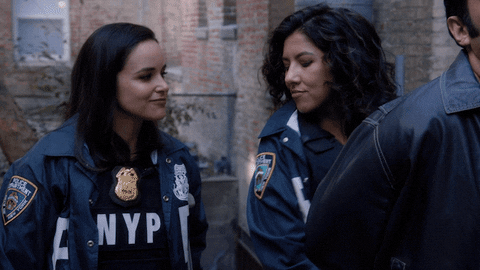 Ever since I watched an interview with Stephanie Beatriz where she says she thought she'd never get hired once Fumero did because no one would hire two Latinas, it's been haunting me. Master of None went into this with the 'Indians on TV' episode, and I can't believe this is a thing. Maybe I should, with the all-white cast of both Friends and HIMYM, but. . .well, the inclusion of both (as well as giving two lead roles to Andre Braugher and Terry Crews) has been absolutely wonderful.
4. Diverse characters
One of the most exciting moments of the last season was the revelation of Rosa's bisexuality. And this is how they chose to celebrate their 99th episode!! (Thinking of HIMYM's hypermasculine Girls vs. Suits 100th episode.) And you couldn't have stuff like A.A.G.L.N.Y.C.P.A., and honestly, a successful sitcom with non-white and LGBTQ representation — actually brilliant.
5. Getting better at season 5?!
I think Parks and Rec held it's own in the last three seasons. But I've not seen any other show that's not been on a steady downhill trajectory by the end of season 5. We've gotten new storylines to explore; none of the characters feel old, even if they're exaggerated.
6. Andre Braugher
And how does he say his lines with a straight face?!
7. BONE
Ok I can't even think of this scene without bursting into uncontrollable laughter. Please watch it.
8. the Morning and mid-day pick-me ups
Thank f–k to whoever runs their social media! Because the jokes are SO GOOD, genuinely just funny, it's a nice treat to see reminders of it on my feed. "The best of Amy Santiago", or just a scene that really cracks you up. . .it's nice. I love it. Thank you.
9. Moo Moo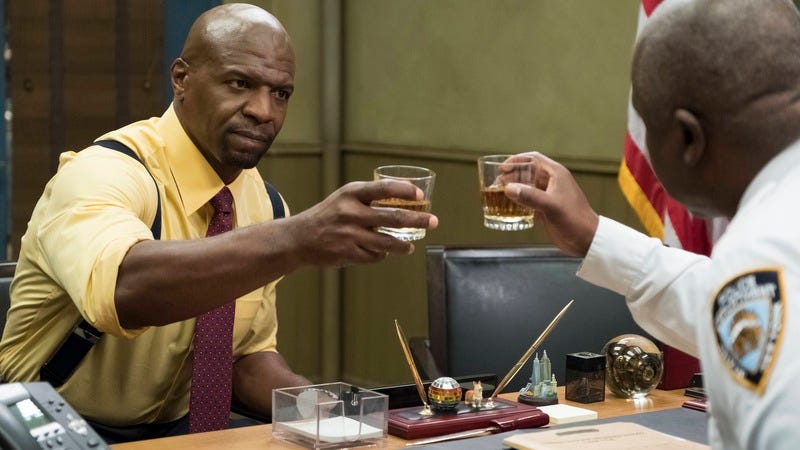 This episode is one of the most powerful and thought-provoking portrayals of police brutality I've seen on TV. And this is a half-hour sitcom!!! Terry Crews's best performance on the show, no doubt. Should be required viewing — if you've not seen this yet, you really should, it's season 4, episode 16.
10. Relationships
Jake and Sophia. Rosa and Marcus. Boyle and his four ladies. Captain Holt and Kevin. Rosa and Pimento. Terry and Sharon. Jake and Amy. This show's treatment of relationships (and their endings) is almost enough to unravel the effect of watching Two and a Half Men all through my formative years.
11. This joke:
Hey there, jokers. I got a joke for you: What did one Estonian farmer say to the other?

Our crop yields are so much smaller than that of mighty Latvia.
REPRESENT. But this is also hilarious. Because, obviously, Latvia yields shit, so it's like a play on a joke. And they have 6 toes. And no islands. We've got some beef, us Baltic neighbours, and it's good (and unbelievable) to see that on U.S television — can you imagine a nation of 1.3 million collectively flipping out at that scene?
12. Jake's daddy issues
I don't know why this gag continues to be so funny but when Jake called Holt dad, a part of me died and went straight to heaven.
13. Halloween episodes
Like the show, these episodes (somehow) get better and better. I look forward to these way more than Halloween itself. Also, Amy's 'can you magically make everyone kind, sober and fully dressed?' is big mood.
14. Backstreet Boys episode opening
This scene pops up on my Facebook every now and then and I simply have to drop whatever I'm doing–lecture, work, mindless scrolling–and watch this.
15. Fully written women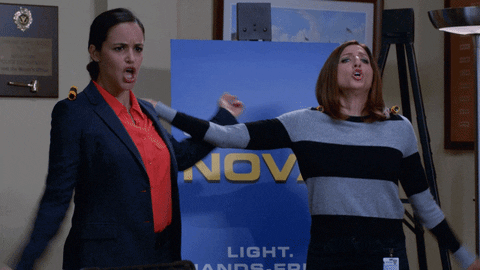 'No offense, but you are something of a teacher's pet.' 'People love their pets.' This fab Atlantic article goes into all the reasons Amy is brilliantly written: 'pop culture has long reinforced the idea that intelligence and desirability can't easily coexist in a female character.' They're full people, not plot devices, and it's absolutely brilliant.
16. The fanbase & its uprising when Fox cancelled the show
Fanbases can get scary and weird, but I've never seen that in the Brooklyn Nine-Nine one. And although I think it was confirmed NBC picked this up this summer because of financial incentives, the way the fans rallied to save it was amazing. I'm starting to think you can't go wrong if your fandom has Lin-Manuel Miranda in it.
17. Andy Samberg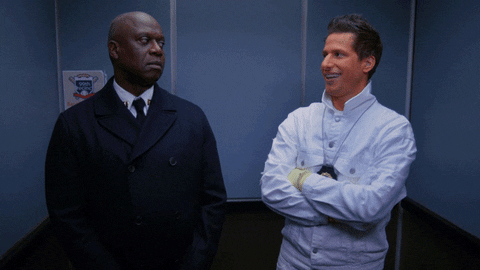 A long-time fan of The Lonely Island, I started watching Brooklyn Nine-Nine because I wanted to see more of him. And he is so funny. He was put on this Earth to make people laugh, and I'm so glad he's able to do that. Hero.
18. Charles & the Boyles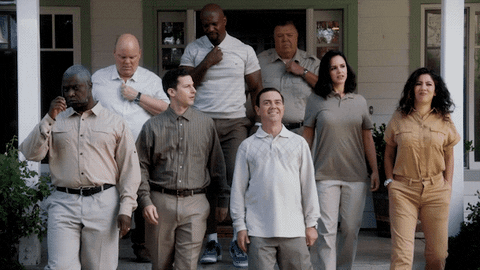 Charles is so unapologetic. The best no 2 around. And his f–king family are so funny. I think a huge strength of B99 is to ration some of the storylines, and we get just enough of Boyle Oil to keep us going. And let's not forget about the roleplays and matching outfits and the glory of 9 Days. 
19. The proposal
Oh dear!!!!! I can't watch this!!! It's so CUTE!!! (No, not the one on the gif but if you've not seen it yet I don't want to ruin it!!!)
20. no doubt no doubt no doubt no doubt
Iconic.
I'd love to hear your fave things about B99! And if you've written about it before, please do leave links below!